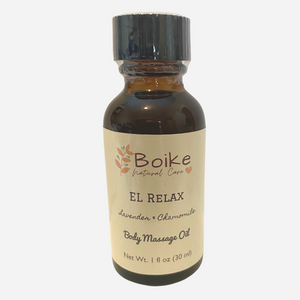 El Relax Body Massage Oil
El Relax (Lavender + Chamomile) Body Massage Oil
A 100% certified pure essential oils blend of Lavender, Chamomile and Copaiba skin safe dilution in a jojoba carrier oil. It is easily absorbed by the skin without clogging pores. This body massage oil promotes a sensation of relax and calmness. It's an excellent choice to add to your bedtime routines.
The product is packaged in an amber glass 1 oz  or 2 oz bottle perfect to protect blend from light and extend the product shelf life.
Main ingredients benefits:

Lavandula angustifolia (Lavender) essential oil:
Lavender, a floral and fresh aroma, promotes sensation of calm and relaxation on a stressful days. Many studies show lavender's main components (linalool and linalyl acetate) have a restoring influence on the body, heart and mind system. 
Roman Chamomile essential oil:
A sweet, fruity and herbal aroma, Roman Chamomile essential oil is a well known oil to create a relaxation mood, well-being feeling throughout the day, calm a worried mind and encourage sleep at night.
Copaiba essential oil:
A lightly earth aroma derived from the resin of the Copaiba tree. It can helps to quiet and calm the mind. Promote a restful sleep at night.
Size: 1 oz  or  2 oz
Ingredients:
Simmondsia chinensis (Jojoba) Oil and a blend of 100% pure essential oils: Lavandula angustifolia (Lavender) oil, Anthemis nobilis  (Roman Chamomile) Oil, and Copaifera coriacea/langsdorffii/officinalis/reticulata (Copaiba) Resin Oil.
Direction of use:  For topical use only. Apply to desired areas as needed. No dilution required.
Safety: A patch test for sensitivity highly recommended. Not for use on children and pregnant women. If you are under a doctor's care, consult your physician. Avoid contact with your eyes, inner ears, and sensitive areas.
Boike Natural Care Disclaimer:
The purpose of our soaps, aromatherapy blends, and natural skin care products is to achieve clean skin in a safe way and promote well-being. We inform about the ingredients on how Boike prepared their products, however, our artisan soaps and handcrafted natural care products are not intended as a medical treatment. If you are under a doctor's care, consult your physician.