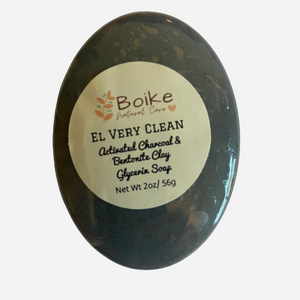 Activated Charcoal
El Very Clean glycerin soap (2 oz): Activated Charcoal + Bentonite Clay
El Very Clean is a coconut mango butter glycerin soap with a 100% pure essential oils blend of Tea Tree, Peppermint and Patchouli. Mango butter provides skin deep hydration. An activated charcoal and bentonite clay add a natural color to our soap. Additionally, the activated charcoal and clay help to remove skin impurities, absorb excess oil and deep-clean your skin.
Note: This soap is recommended for oily skin or acne prone skin. If you have other skin type, however you can use it, alternating with other soap of our aromatherapy collection.
Size:  Approx. 2 oz
Ingredients: coconut oil, palm oil, vegetable glycerin, safflower oil, water, jojoba oil, mango butter, sorbitol, sorbitan oleate, oat protein, titanium dioxide, activated charcoal powder, bentonite sodium clay and blend of 100 % pure essential oils of Tea Tree, Peppermint and Patchouli in a skin safe dilution.
Essential oils benefits in our recipe:
Tea Tree: The chemical components have an excellent potential to support the treatment of acne and pimples.  (Enshaieh et al. 2007)
Patchouli: Earthy and woody aroma. Moisture and cools the skin. It anti-inflammatory and antimicrobial properties can promote skin well-being.
Peppermint: It has anti-inflammatory and antimicrobial properties. It provides a cooling effect to the skin when using in a skin safe dilution.
Safety: Recommend a patch test for sensitivity. Not for use on children and pregnant women.

Boike Natural Care Disclaimer:
The purpose of our soaps, aromatherapy blends, and natural skin care products is to achieve clean skin in a safe way and promote well-being. We inform about the ingredients on how Boike prepared their products, however, our artisan soaps and handcrafted natural care products are not intended as  a medical treatment.