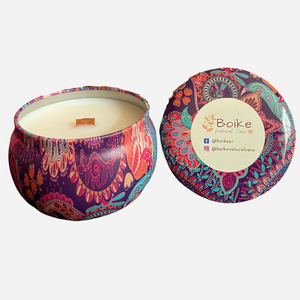 Lavender Ylang Ylang Natural Premium Wax Candle
Coconut, Soy and Apricot premium wax candle 4 oz
This luxury creamy wax blend is a combination of renewably sourced of coconut, soy, and apricot oils. This wax blend of ecological sources burns cleanly and evenly, resulting in smooth creamy tops burn after burn. It is toxin free, phthalate free, and ethically sourced.
The fragrance oils used are certified as phthalate free which is very important and relevant, scientific research and literature review suggests that chemicals known as phthalates, can have harmful effects on the body's hormone system. 
Scent: Lavender and Ylang Ylang
This candle has a natural wooden wick to produce a relaxing ambiance.
Size: 4 oz