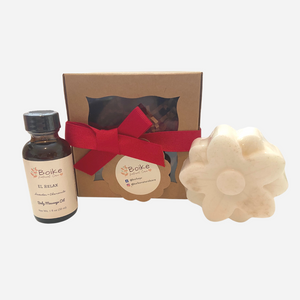 Relaxation Gift Box
Give the experience of relaxation and calm through this gift set. Give well - being to your loved ones.

The kit includes:
🌿  Flower glycerin soap 2 oz (Ylang Ylang soap, see notes*)
🌿  El relax (Lavender + Chamomile) body massage oil 1 oz
🌿 Gift box (4 L x 4 W x 2.5 H inches ) as picture shown. The color of the gift ribbon may vary according to availability.
*Note:  The soaps may vary: lavender + chamomile, Ylang Ylang, mint + eucalyptus or Geranium + Frankincense according to availability.
Ylang Ylang glycerin soap  is a coconut mango butter glycerin soap with 100% pure essential oils of Ylang Ylang, Lavender and Frankincense in a skin safe dilution. The soap has white kaolin clay which is ideal for sensitive skin providing a gentle exfoliation and drawing impurities out of the skin.
Size: Approx 2 oz
Ingredients: coconut oil, palm oil, vegetable glycerin, safflower oil, water, jojoba oil, mango butter, sorbitol, sorbitan oleate, oat protein, titanium dioxide, watermelon powder, white kaolin clay and blend of 100 % pure essential oils of Lavender, Ylang Ylang and Frankincense in a skin safe dilution.
El relax body massage oil is an aromatherapy blend of 100% pure essential oils of Lavender, Roman Chamomile and Copaiba essential oils in an organic jojoba carrier oil skin safe dilution. It's easily absorbed by the skin without clogging pores. This body massage oil promote a sensation of relax and calmness.  It's an excellent choice to add to our bedtime routines.
Ingredients: Simmondsia chinensis (Jojoba) Oil and a blend of 100% pure essential oils: Lavandula angustifolia (Lavender) oil, Anthemis nobilis  (Roman Chamomile) Oil, and Copaifera coriacea/langsdorffii/officinalis/reticulata (Copaiba) Resin Oil.
Safety: Recommend a patch test for sensitivity. Not for use on children and pregnant women.

Boike Natural Care Disclaimer:
The purpose of our soaps, aromatherapy blends, and natural skin care products is to achieve clean skin in a safe way and promote well-being. We inform about the ingredients on how Boike prepared their products, however, our artisan soaps and handcrafted natural care products are not intended as a medical treatment.