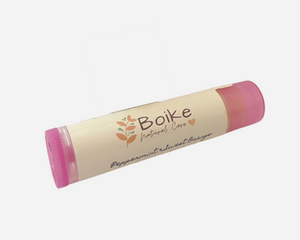 Peppermint + Sweet Orange Lip Balm
Peppermint + Sweet Orange Natural Lip Balm
A natural lip balm with a combination of shea butter, cocoa butter and vegetable oils to provide moisture to your lips. Our recipe is free of petrolatum, synthetic fragrances and artificial colorants. 
Note: The lip balm cap color may vary according to availability.
Ingredients: Sweet almond oil, beeswax, shea butter, jojoba oil, cocoa butter, vitamin E and blend of 100% pure essential oils of peppermint and sweet orange.
Safety: Recommend a patch test for sensitivity. This formula contain nuts. Not for use on children and pregnant women.
Boike Natural Care Disclaimer:
The purpose of our soaps, aromatherapy blends, and natural skin care products is to achieve clean skin in a safe way and promote well-being. We inform about the ingredients on how Boike prepared their products, however, our artisan soaps and handcrafted natural care products are not intended as a medical treatment.