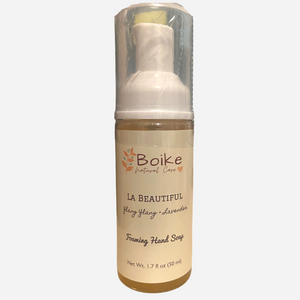 Ylang Ylang Foaming Hand Soap
Ylang Ylang Foaming Hand Soap
A vegan foaming hand soap made from saponified vegetable oils free of synthetic fragrances and artificial colorants. We used 100% pure essential oils of: Lavender, Ylang Ylang and Frankincense in a skin safe dilution.  It leaves the skin clean, silky and soft.
Size: 1.7 oz
Ingredients: 
Saponified oils of coconut, olive and jojoba, rosemary extract, aloe vera,  vitamin E, 100% pure essential oils: lavender, ylang ylang and frankincense  in a skin safe dilution.
Safety: Not for use on children and pregnant women.
Boike Natural Care Disclaimer:
The purpose of our soaps, aromatherapy blends, and natural skin care products is to achieve clean skin in a safe way and promote well-being. We inform about the ingredients on how Boike prepared their products, however, our artisan soaps and handcrafted natural care products are not intended as a medical treatment.